BOUNCE PARTY RENTALS – RENT INFLATABLES & PARTY SUPPLIES
Rent High-Quality Inflatables At Discount Prices
At Bounce Party Rentals, we rent high-quality inflatables at discount prices. Plus, the event supplies you need. We believe event rentals for kids' parties should be affordable. At the same time, kept well-maintained and very clean. We understand event planner has a budget and wants to throw the best party they can. Our fantastic deals, current discounts, and coupons are constantly changing to help.
AS ALWAYS, WE SUPPLY SETUP, DELIVERY, AND PICKUP. YOU HAVE ALL THE FUN!
Big Water Slides Rentals & Toddler Slides!
With our extensive selection of wet inflatables, we are ready to bring the summertime fun. We provide water slides for rent in various sizes. Our giant water slide rentals are appropriate for all ages. Still, the large water slides are still easy to clime and safe for small children.
 Some spaces do not allow for a big water slide. Little ones may prefer something less intimidating. In those cases, it would be best to rent a smaller slide. Toddler water slide rentals start as small as 7.5 feet on our combos.
Bounce House Combos With Water slides or Dry Slides For Rent!
Inflatable Bounce House Combos are more versatile, working any time of the year. Our large selection of inflatable combos provides hours of fun jumping and sliding. You will need to choose if you want a water slide that ends in a pool or a dry slide option. All our inflatable combos include a bounce house area where children can jump and play. Optional pop-ups are also available for an extra level of interactive entertainment! Our combos rentals keep the kids entertained for hours. 
Themed Bounce House Combo Rentals!
Our themed bounce house combos are an excellent way to spice up your next party or event! We offer a wide variety of licensed, real-deal themes. These themes create the perfect atmosphere and create lasting memories. Our themes include some of the most popular characters your guests will love.
Girl Themes like Disney Princess, Hello Kitty, Dora the Explorer, and Princess and The Frog. Boy themes include Disney Cars, Dinosaur, Pirate, Sponge Bob, and Circus. With all the themes we offer, there's something for everyone! These fun-colored Bounce House Combos with characters will make your event unforgettable.
Slip N' Slides Making A Comeback!
Slide farther and faster on a giant inflatable slip n' slide! Inflatable Slip N' Slides have come a long way since the toys you remember from childhood. Now, instead of sliding on the hard ground, you can slide on a safe and fun soft cushion that inflates. This makes for a much more safe and more enjoyable experience. Rent today to slip and slide your way to a good time!
Bounce Houses, Moonwalks & Bouncy Castles Rentals Are A Must For All Events!
Bounce Houses, Moonwalks, and Bouncy Castles Rentals are a must-have for any event! From small backyard gatherings to large festivals, they are a must-rent! Bounce House rentals are also very affordable. Kids will love the excitement of bouncing around in their jumpers. Parents love that they're in an enclosed soft environment. Our bounce house also has large viewing nets, so you can see what your kids are up to. 
Since most units are 15'x15′ or smaller, they can be set up almost anywhere. Set up indoors at schools, churches, or daycares to keep kids entertained and active. Bounce Houses, Moonwalks & Bouncy Castles rentals will provide endless fun and laughter. They are perfect for all your special occasions!
Trying to find something fun for the family? Looking for an exciting way to entertain a group of kids at an event? Then rent a jumpy house for an easy solution!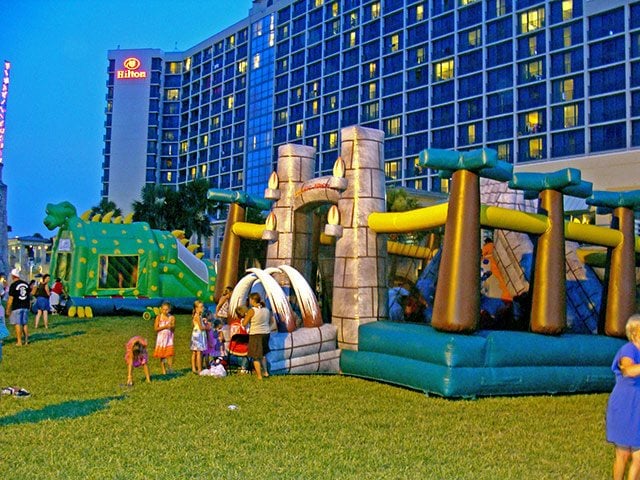 Blow Up An Inflatable Dry slide!
For the cooler months, we can blow up an inflatable dry slide for your special occasion. We ensure our slides stay slick with our specially formulated super slide-slick spray. Dry slides are perfect for all times of the year, even in the summertime when water is not an option. They will stay much cleaner than wet slides. No water to make mud! They're also great for larger community and church events or even as a fundraiser – so get one today! Our dry blowup slides will offer hours of fun and entertainment, whatever the season.
Rental An Inflatable Obstacle Courses For Fun & Competition! 
Inflatable obstacle courses offer unparalleled fun and competition! An excellent way for people of all ages to have fun and challenge themselves. These immersive and exciting obstacle features provide hours of entertainment. They feature gigantic blowup slides and rock walls to pop-ups and tunnels. Inflatable courses culminate with a large and exciting slide.
How can large groups do a competition on a two-land obstacle course? Each individual's time can be clocked. This will determine who made it through the course the quickest. Inflatable obstacle courses add big fun and friendly competition together! Some obstacle courses can be used wet or dry.  
Party Supplies Like Fun Carnival Games!
Liven up any event with fun party supplies like Carnival Games. Renting inflatable games is a great way to entertain a large group of people. Rent a basketball shoot-out, ring toss, shooting gallery games, and football toss. There is no need to worry about buying or bringing your equipment. With each rental, all supplies needed for the games are included. One popular item is the floating baseball hitting game, which is sure to be an instant hit with any age group. These fun carnival games will help create lasting memories for everyone involved!
Inflatable Playlands Give Toddlers A Safe Place To Play!
Inflatable playlands offer toddlers a safe place to play. They allow them to explore and enjoy themselves in a large enclosed area. Typical features include slides, tunnels, and bounce areas. Rock walls that lead to big slides. These are a lot of fun things to play and jump on. A party would not be a party with a ball pit. Check out the ball pit in the middle of the circus playland. Inflatable Playlands are the most interactive of all the inflatable party rentals.  
Add Delicious Carnival Food Concessions To Any Rental For A Discount!
Delicious Carnival Food Concessions rental is the perfect addition to any event! With an add-on discount available, it's a great way to save money. The smells alone make renting Carnival Food Concessions with. There is nothing like walking out to an event and smelling fresh popcorn or sweet cotton candy. Popcorn will help fill bellies. Snow cones are great on a hot day. Cotton candy is a favorite party treat! All Carnival Food Concessions rentals come with supplies needed to make them. Renters will only need ice for the snow cone maker. Rent Delicious Carnival Food Concessions today. Then you can enjoy the sweet treats you've been craving!
Giant Water Slides, Bounce Houses, Inflatables Combos, Games & Food Concessions Rentals!
 You now know we can provide all the necessary party equipment for any birthday or event. We have the Giant Water Slides! Bounce Houses are ready to be jumped in! Our Inflatables Games are prepared for you to challenge an opponent! We have combos to make everyone happy and fun carnival food to tame everyone's appetite. Please take a few minutes to see what kind of inflatables we offer. Then click on the online reservation button to set up your rental today.
Kids Will Jump For Joy As They Await The Festivities To Begin!
We serve communities across Florida (FL) with our high-quality rentals. One standout feature of our company is the exciting selection of inflatables. Bouncers and slide rentals keep children entertained for hours on end. Kids will jump for joy as we set up your festivities. You can call us for your next Birthday party, school fundraiser, or community celebration. You can trust us to be the ideal choice for any event.
Use Party Rentals For a Successfully Fundraiser!
Our cheap rental rates make organizing a successful fundraising event easier than ever. Cheap rental rates allow you to raise funds for your cause without breaking the bank. Many organizations have used our party rentals to raise funds successfully. Party Rental at unbeatable, budget-friendly costs makes fundraising a snap!
Easy Online Reservation Form!
We aim to simplify the party-planning process with our convenient online reservation form. Our form allows you to secure your rental items quickly and easily. Exceptional customer service takes care of delivery and pick-up of your rental equipment. This gives you one less thing to worry about as you plan your special day. Enter your event date. Browse our broad inventory. Reserving what you need to make your event a memorable, enjoyable experience. It is that easy! 
Contact Us Today With Any Questions Or To Complete Your Reservation By Phone! 
Inflatable Party Rental For Any Occasion

Are you celebrating a birthday party and need a wet inflatable? Our party rentals are perfect for any occasion. Then rent a larger blowup water slide and a super wet slip n' slide.
Do you have a challenging audience to please? Then rent the ultimate solution with a combination bounce house. The bounce house water slide combos will cool off even the most demanding crowd! Combos come with both a trampoline and a slide area. The majority of combo slides can be used wet or dry.
Blowup bounce houses are the #1 inflatable to rent for any holidays. We rent the largest selection of licensed bouncy houses in the area. Family reunions are another perfect event for inflatables. Jump or slide the day away to create those forever family memories.
Need to do some team building? Caravel game rentals are great for team building. Rent the All-star Basketball Shootout or any other toss game as a challenging activity. Then have teams work together to win the completion. 
Sometimes there is no occasion. Still, you want to do something special for the young one in your life. We are ready to help with the biggest and best selections of local event rentals and party supplies.
We accommodate corporate and small business events as well. Think about team building by racing through a blowup obstacle course. From kid to adult, you can all have fun! There is no job too big or too small.
We Deliver Excellent Service With Safety In Mind!
Here at Bounce Party Rentals, we deliver excellent service and value your business. Our employees undergo a rigorous background check. Our business is licensed and insured. You can feel safe working with us!
100% Cleaned & Sanitized!
Our rentable inflatables are kid-safe and 100% cleaned and sanitized between every rental. Luckily, when Covid-19 came around, this was not new to us. We have been cleaning our units to high standards long before the Coronavirus. However, we are taking additional steps to ensure your family's safety.
All rentals will be thoroughly disinfected twice before we arrive at your event. We inflate them inflatable in direct sunlight for at least thirty minutes. This is so sunlight can do nature's work of disinfecting and removing moisture. Next, we completely hand clean with a disinfectant and a vacuum. For the safety of your family and our staff, we will practice social distancing at setups and pickups. Safety is our #1 concern!
#1 Party Supply Company
Becoming the #1 party supply company has been effortless because of how much we care. We understand that your family's special events are of great significance. That these are the events where milestones are celebrated. Memories made on these days will be made and looked back on for years to come. This may be one of the few times in life when everyone you love is together in one place. 
Celebrating these moments with friends and family is something special. So rent from a party supplies company that cares as much about your family's event being a success as you do. We look forward to surpassing your expectations.
What Makes Your Party Rental Service The Best?
We strive to ensure that every customer is completely satisfied. Going above and beyond to ensure customer happiness is an average day for us. After almost 20 years in the business, we have gained a lot of knowledge. We have the experience to provide our customers with the best possible experience.
With our compassion comes our desire to see ours happy. With our experience comes the knowledge to be prepared. So we leave nothing to chance. We have a repair shop so that all of our inflatables are always in good condition and can be fixed on the fly. Still, we keep backup rentals ready, just in case. Never worry about road problems because we always have emergency drivers.
With all of this experience and dedication, it's no wonder why we're the best! We love what we do and will continue providing excellent customer service for many years.
Our Family Values Are Why We Are The Best Special Event Service!
Becoming the best special event service starts with our story. One night in 2004, two young local family guys sat in a restaurant in Volusia County, Florida. That night Bounce Party Rentals was founded. One a schoolteacher, the other a business entrepreneur. Both were true believers in the value "Life Is All About Family And Friends." Not long before conversations turned into the future, business, community, and family. 
The idea was discussed of a company that could bring families and friends together. Even the whole community. One that would put smiles on kids' faces. Not too much longer into the conversation, Bounce Party Rentals was born. As the two-family guys continued to plan, one thing remained steady. Their original value, "Life is all about Family and friends."
Now it is 19-plus years later. The same two guys are overcome with the joy their family has brought to other families in our community.   They often think back on the hundreds of little ones' smiles they have helped happen over the years. When they do, they know they made the right decision all those years ago.
Event Equipment Rental Booking & Delivery Time
We have done this party planning thing once or a few hundred times. We know you have a lot going on when planning and hosting an event. That is why we go out of our way to accommodate special needs regarding booking and delivery time.
We Deliver, Set Up, and Pick Up; You Have All The Fun!
We understand that you may have already spent hours working on your event by the time you call us. Details like deciding the event theme, who to invite, and making invitations. Tasks like booking a public park or venue if the party is not in your backyard. So, when it is time to book your inflatable rental, we want to make the process as easy as possible. 
All the information needed to book a reservation is on our easy-to-navigate website. We include complete rental inventory and pricing. Inflatable pages have pictures, videos, and even 3D turnarounds. You will also find added facts, such as the size of each unit. Detailed information and prices are all listed right on the website. This makes finding your inflatable easy and fun.
View our frequently asked questions page for the answers to almost any question. Please take advantage of our very easy-to-use online reservation form. Still, need assistance? We are available by phone or email to help.
V.I.P Party Equipment Rental Service
As parents just like you, we have had many family events and birthday parties! So, we know tensions get high when party time is getting near. That is why we make sure to handle every delivery like it is the most critical delivery we have ever delivered. An authentic V.I.P. experience comes with every party equipment rental!
For your convenience, you can expect a call the night before your event to set up a delivery time. We then offer a small one-hour window so you do not wait all day. On arrival, all you need to do is show us the setup area, water hose, and power outlets, and then we will do all the work.
Always arriving when we say we will. We understand event planners like yourself have an extensive to-do list. There is only so much time to complete the tasks to be ready for your event. We see you running around to pick up event supplies and blow up balloons. While we are setting up your bounce house, some of you are baking cupcakes and birthday cakes. Then at the same time, decorate the venue and get ready to greet your early guests. With so much to do, working with a company that will take care of you flawlessly is a must.
Do You Offer Free Delivery Near Me?
Multiple locations allow us to provide excellent service since we are always close by. This allows us to offer free delivery near many different areas. If you are in Volusia and Flagler County, Florida, you are near me, and your delivery is almost always free. Still, we travel to other surrounding areas with a small delivery fee.
For your convenience, we also display items available in many other Florida Counties. This includes Seminole, Orange, Osceola, St. Johns County, and more. If you live in this area, you will find Inflatable Rentals Available Near You here.
Party Rentals In Your Area, Even If You Are Not In Ours!
Before we joined in on the fun of the event world, my family was a customer. I remember having difficulty searching for a party rental near me. Often not able to find what I was looking to rent. So now that we are on the other side, we want to make finding the perfect inflatable easy! Even if we do not deliver to your area, we will be happy to help you find an event rental company that does.
What Kind Of Event Equipment Can We Help You Rent?
Our website includes the largest selection of event equipment in one place! We display a wide range of rental equipment for events, parties, and weddings. Whether you're throwing a birthday party or planning a wedding reception, we can help. Our selection of rental equipment can help make your special day truly unique. Why are we the #1 stop for event planning services? It is because of the extensive inventory of equipment rentals we help you find.
Wedding Equipment For Rent
Find all the items you need to rent for a wedding in one place. Larger Items to rent, like tents and Canopies. Must have rentals like chairs and tables. Also, some smaller wedding items like linens and glassware. To get your guests up and moving, rent a dance floor, DJ Equipment, and some lighting. All of the wedding equipment you need is right here.
Fun Inflatable Party Rentals
Fun Inflatable Party Rentals is the perfect way to make any event unforgettable. We have a wide selection of inflatable fun to rent. Our website includes everything to jump on. From bounce houses and castles to jump houses and moonwalks. Everything wet, from water slides to slip n' slides. Also, if you would like a challenge, check out obstacle courses and games. Whether you're looking for something small or large, we've got it all!
Food Concession & Party Treats
We offer many food concessions! This includes party favorites like Cotton Candy Machines and Sno Cones Makers. Movie Theater Pop Corn Machines and Hot Dogs Rollers for large events. Don't forget sugar treats like pucker sticks fillers to keep guests energized. We offer a variety of delicious options perfect for your special occasion.
Interactive Carnival Games For Rent
Renting interactive carnival games is a great way to keep your guests entertained. Carnival game rentals are great for birthday parties, corporate events, and school carnivals. At your next team-building event, interactive carnival games are sure to be a hit.
Choose from giant inflatable games like soccer, basketball, football, jousting, and wrecking ball. Rent a giant version of classic games like twister, connect four and Jenga. Other options include hard carnival games such as ring toss, down a clown, ladder ball, and Plinko. Old-school favorites like sack race bags, Parachutes, Hula Hoops, and tug-of-war ropes. With so many options available to rent, there's sure to be something for everyone at your next event! West Volusia Games Rentals & Orlando Game Rentals!
Super Large Event Equipment
When it comes to large events, having the right equipment makes all the difference. That's why event organizers opt for equipment that is designed for a big event. This will ensure the event is memorable for a good time and not long lines.
Rock walls are a great option for larger events. They draw a crowd to watch as people test their climbing skills. Fun for climbers and spectators. It is perfect for events such as school carnivals or sporting events.
For the little ones, a trackless train can be a great addition. This allows many children at a time to enjoy the event. Parents can relax as their kids are safe riding on the trackless train.
One of the most popular pieces of event equipment is the dunk tank. Nothing adds as much fun and excitement to any outdoor event like a dunk tank will. You have the fun of being the person getting dunked and taunting the throwers. The excitement of knocking their teacher or coach under the water makes it such a hit at any event. Last, the entertainment for the crowd watching. Dunk tank rentals are great for large events.
Foam cannons and bubble machines are smaller pieces of equipment that fill a big area. Immerse your event area with either foam or bubbles. Add an inflatable foam pit to the foam cannon, and you have a very large event activity. Bubbles from a bubble machine will go anywhere the wind will take them. These bubbles will keep kids entertained and add observance.
No matter how large your event is, we have the rental equipment you need! Large Rental Equipment in West Volusia & Large Rental Equipment in Orlando, Florida!
Blow Guest Minds With Amazing Decor
Decorations can create the perfect atmosphere for any occasion. The right decor can make all the difference at any event. The key is to think beyond standard balloons and streamers. Rent decor for your next Birthday party, wedding reception, or corporate event. Rental decor can wow your guests. Let's face it spending big money to buy decorations that you will only use once is not always feasible. That is where renting decorations come in. Party Supplies in West Volusia & Party Supplies in Orlando, Florida!
Our Party Rental Company Is Growing All The Time!
We are growing All The Time! After experiencing a remarkable expansion, we offer an incredible range of services. Our goal is to be able to cater to all your party rental needs. Backyard parties may be our specialty, yet, we can cater to any event. Larger events, like corporate or even Christmas parties, are easy for us. Our equipment rental company will ensure you have everything you need. We have an extensive selection of rental items in the works. These include stages, dance floors, tables, chairs, and tents. We are also adding more bouncers, more slides and slide combos, and much more.  We are also adding more areas where we display party rentals. Please continue to check back every time you need to rent event equipment. We are always happy to help your family have a spectacular event!