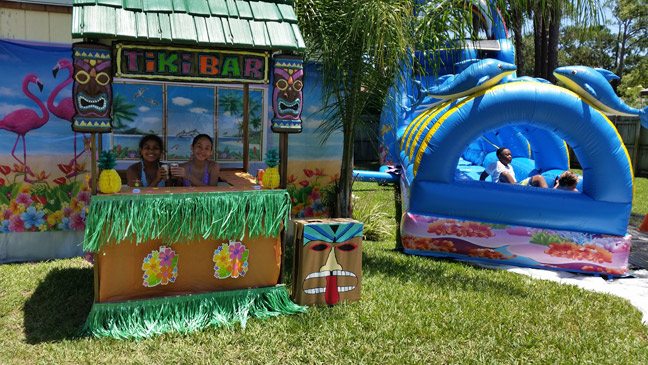 Planning your child's birthday party should be fun and easy.  Let us use our 15 plus years of experience to guide you through this process. Below you will find the most comprehensive birthday party check lists ever created to ensure your event planning is an ease.
We will take you through every step from the day that you decide to throw your child a birthday party. Shopping will be a breeze with the check list of must have party supplies and many suggestions that you may not have thought about. After the party you will be prepared with the items on the cleaning check list. Super cool tips at the end you do not want to miss on how to make those thank you cards more special.
Getting Started: The Kids Birthday Party Check List
You cannot start your event planning too far in advance, the earlier you start the better the chances are you will have first pick at rental items like party inflatables and party venues like everyone's favorite park pavilions. About a month or more before your birthday party start your first check list below.
Determine Your Party Budget
We all want to give our kids the world or in this case the best birthday party ever thrown by a parent. Although that would be amazing, the reality is events always have a budget, after all we might want to save something for college.  Determine a soft or hard budget is the first step in planning any event and will help determine a lot in all your future party planning steps.
Make Your Birthday Guest List
Now that you have a budget, I imagine you have a pretty good idea on the number of guests you are looking to invite. Once you count the must invite family members you can decide how many close friends, neighbors and classmates to invite (most schools insist if you invite one then you must invite the entire class).
Figure Out Get Your Date, Time, and Location
Why is the date, time (start & end time) and location wrapped up in one step? Because most party locations are first come first serve, so you may need to adjust the event time or date if you have a location you cannot live without.  This is where planning early can give you a big advantage. So, select your party date and time, then call your venue to check availability (Be sure your venue will comfortably accommodate your full guest list).  If your party will be in your backyard then you are lucky, this step should be a breeze for you.
How To Get Help With Your Party Planning
You will be surprised how willing to help family and friends can be, all you have to do is ask. Party planning is fun, so people are usually excited to participate. Ask your friends and family to help with the task you feel they may enjoy.
Choose A Birthday Party Theme
A good birthday party theme can build big excitement for your child's party.  Most of the time kids know what theme they want far in advance, if not this is a great time for a parent to guide the little one to pick a theme that will excite their guest.  Maybe think of a new movie that just came out or a timeless movie/tv show like Frozen, Mickey Mouse or Avengers. Retro themes like a carnival, fair or circus theme are always big hits.
Obtain Theme Event Invitations and Send Them Out ASAP
With today's technology there are many options to ensure invitations make their way into your potential guest's hands or inbox. Try USPS, text, email, and social media. The fastest and most convenient way you get your invitation into the hands of your guests, the sooner you can expect those very important RSVP's.  On your invitations be sure to include all the important party details (Date, Times, address, etc.),  types of food that will be offered (snacks, finger foods, full meal) and maybe a little information about the fun activity kids can look forward to participating in.
Reserve The Party Entertainment
Your party guest come to your birthday party to help you celebrate, but they stay because they are having a good time. Choosing the right entertainment will help your family and friends have fun and build lifelong memories. There are so many options, so where do you start? Right here, below you will find all the best options and some information on them.
Birthday Party Entertainment Check List
Simply the most important aspect of any party or event! People attend parties to have fun with friends and family, sure food and decorations are important however you can have a party without either one, but entertainment is a must for a successful event. Entertainment can be book with a professional entertainer, come from games purchased from a party store or rented from the best local party rentals company.
Music – This could be obtained with a simple personal radio or you can take things to the next level with a live DJ.

DJ – A good DJ can make or break a party by keeping the party flowing and knowing when to play the right songs to get you on the dance floor.
Radio – This may be all that is needed for smaller events.
Larger Speakers – Turn your radio to level 10 with larger speakers
Play List – Pick your kids favorite songs and some good songs for parents the kids will also enjoy. Picking the playlist gives you the opportunity to make sure songs are age appropriate
Microphone – Some home radios have a plug for microphones that can be used to make announcements.  Microphones can be purchased or rented.
Karaoke Machines – Singing is always fun with that right crowd.
Stage – Consider renting a stage for your entertainment
Dance Floor – People are always more likely to dance if there is a set dance area.  You can rent a dance floor from most event rental businesses.  Some dance floors even have lights under the dance area.

Games – Small games can be purchased however we recommend lager games that you rent from a party rental company.
Prizes – Make winning games more exciting by handing out prizes to the winners.
Props – Give your guests fun items to play with, make noise with or take amazing photos with.
Bounce House – For small events with limited space we recommend a bounce house or moonwalk.  Bouncy Houses even come in different themes.
Piñata – Tons of fun and treats for the kids all in one! Don't forget the mask and stick.
Magician – Kids love magic, having a magician at your party is a great way to entertain the kids and adults!
Obstacle Course – Great activity for competitive kids that love to be challenged.
Water slide – Our opinion is that blow up water slides are the most fun inflatables you can rent for summer parties.
Combo Inflatables – Two rentals in one with a bouncy house and slide area. (Some can be used wet or Dry)
Dry slide – When it is cool outside, but your kid still wants a slide for a thrill ride, rent a dry inflatable slide.
Rock Climbing Walls – Fun, challenging and a great way to get exercise!
Dunk Tanks – Ask your kids teacher, coach or you can take the plunge.  Kids love dunking the adults they love in the dunk tank.
Bungee Runs – Fun Competition!
Trackless Train – Kids love taking a ride in a cool trackless train and can ride in large groups.
Photo Booth – Homemade with lots of props or you can rent a pro grade photo booth just like the one you see at the mall from a party rental company.
Silly String – Purchase silly string to play silly string tag and other fun actives. (Keep away from inflatables since it will permanently destroy them)
Water Balloons – Water balloon fights are always fun on a hot day.
Order Birthday Party Supplies
By now you should have received your rsvp's and have an idea on how many guests to expect. Order your birthday party supplies based on the number of rsvp's received. Of course it is always best to be over prepared since a lot of times extra people are added to the guest list as the party gets closer (who forgets to invite uncle Mike or that friend from down the street?).
There are many options for birthday party supplies to renting them from a party rental company, buying at retail stores like Party City for birthday party supplies, ordering online at website like Etsy for birthday decorations and eBay has some great party favors. You can even making your own decorations with amazon idea you can find on Pinterest and/or YouTube, both are good place to look for ideas and instructions. Online items should be ordered as soon as possible in case of any delivery delays. DIY items should be started as soon as possible, we all get busy and something DIY takes a little longer then we predict, it is best to get a head start. To help you to remember all the basic party essentials, use the checklists below.  
Favor Bags/ Goodie Bag Check List
What is it that the kid brings to school the next day to remind everyone what a good time they had at your child's birthday party?  If you did a good job on the favors / goodie bags, then it is whatever items you put inside. These items don't have to be expensive, it amazing how the right .25 cent ring can sometimes go over better than a larger more expensive item. Most people choose items that match their theme however there is no rules here.  This can also be a great bonding opportunity with your child since kids love shopping for favor and goodie bag items.
Party favors and Party Goodie bags – good opportunity to add something else themed to your event
Candy – Kids love candy and having some for later is always a plus
Toys – Themed toys make great keepsakes!
Small Games
Small Puzzles
Opportunities are endless!
Decorations Check List
Well thought out decorations will set your party tone and can create an immersive party experience for your guests.  Lucky for you themed parties have become so popular that there are a large amount of options to choose from.  From Hawaiian, tropical, to sports, superheroes, princesses and more much more! For all items on your checklist below you will have to decide to go colorful or themed. 
Banners – The larger the better, you can even order banners personalized! "HAPPY BIRTHDAY LITTLE JOHNNY"
Centerpieces – Dress up the table with a centerpiece. These can be functional like a silverware holder or just decorative, maybe even theme related
Confetti – A splash of color and sparkle to your event. Add to table tops or almost anywhere (keep away from inflatable rentals, confetti will leave permanent marks)
Party Noise Makers – Blowers and twisters are the most popular choices.  They look great on the table and are a lot of fun.
Party Hats – Hats can decorate the tables and then when guest arrive, they can wear them for fun and photos.  They can also be a party favor.
Streamers – Drape them anywhere you think to add a festive look to any event.  
Garland – Another great decoration you can add almost anywhere.
Wall Decorations – Photos, art, or anything else you think may look good on the walls that would add to the theme.

Themed Props –

These items look great around the event and are fun to play with and take photos with

Back Drop – A large backdrop can help you decorate the party room quickly and affordably.
Cutouts – These are great, especially for a themed event.  You can find your favorite characters online and in some stores
Yard Signs – Great for building excitement from the moment your guests arrive and it also helps them to know they are at the right location.
Balloons – A must have at every birthday party. Try to find balloons that match your theme if possible. Extra tip: Tie some to your mailbox to help guest find your home (Don't forget helium and ribbons if you are inflating yourself).
Candles – For some extra ambiance in some areas, add candles.  Please be safe and do not forget a lighter or matches.
Lighting – Lighting can make or break your decorations and can make a difference in a party that no one or everyone dances 
Guest Comfort Check List
Your guest being comfortable should be a big priority.  It is very important that everyone is comfortable at your event after all I am sure you want your guest to enjoy themselves.  If everyone is comfortable then they we will be more likely to have a good time and hangout until the end of your party.
Tables – Be sure to borrow or rent enough tables for everyone to eat, to setup food, tabletop games and any other items you may need a table for.
Chairs – We also recommend borrowing or renting enough chairs for all your guest and then have few extra for surprise guest. Chairs come is adult or child size from many rental companies.   
Heater – Plugin or propane heater can be rented or purchased for cold days.
Fans and/or misters – Keep your guest cool on a hot day.
Tablecloths and/or table skirts – Rented tables or borrowed ones do not normally come with any coverings.  If table appearance is important to you consider renting table covers or purchasing some at the party store
Placemats – Individual placemats can help keep things clean and also add fun when you use themed place mats or mats with games on them.
Tents – Sunny or rainy tents can save the day. Use in the rain to stay dry or in the sun to stay cool.  
Umbrellas – Umbrellas can be used much like tents to keep guest dry in the rain or cool in the sun.
Chair Covers – Not normally rented for kid parties however this option can add class to any event.
Chair Cushions – Great for adding comfort, especially for older guest.
Cooking, Eating and Drinking Supplies Check List
Unless you are only serving room temperature finger foods and bottle/cans of beverages then you may need some eating supplies. Here is a check list of the items hosts normally purchase or rent to help guest eat comfortably at birthday parties.
To Go Boxes/Food Containers – We have all been to events with lots of leftover food and no way to send home the leftovers with friends and family, it is smart to plan ahead and have a way to pass out the leftovers.
Serving Platters, Dishes, Bowls and Trays – Especially when making homemade dishes be sure to have something to serve all your creations on so they look as good as they taste.
Ice Bucket or Cooler – Keep everyone from waiting for your fridge ice maker that could never keep up with a large birthday party, an ice bucket or cooler that can keep several bags of ice cold is a must.
Warming trays – Serving Hot Food? Then do not forget something to keep the food hot and delicious!
Ice trays for cold food – Keep the cold food cold and yummy throughout your event.
Barbecuing? – If so, be sure you have plenty of propane or charcoal, lighter fluid and matches according to your grilling needs
Smoking? – Nothing builds an appetite like the smell of smoking meat; be sure you have plenty of wood chips, any other smoking tools and special ingredients you use when being the smoke master.
Tinfoil – Many uses from barbecuing and smoking, to cooking in the oven.  Also great for covering food to keep warm and bug free if outside
Drinkware – Think about the beverages being offered and your drinkware needs. If your event has a theme you will also have to decide whether or not to obtain themed drinkware.

Plastic Solo Cups – For any event
Cups With Lids – Great for the younger kids
Glass Cups – For a more upscale party (not recommended for kids)
Adult Cups – If you are serving adult beverages such as cocktails or beer it is important that adult beverages are put in a different cup to make sure they are not mistakenly grabbed by a child
Wine Glasses or Plastic – Wine drinkers prefer a wine glass when enjoying their wine, you can offer glass, or we suggest plastic wine glasses
Plateware Check List
There are many different options when it comes to plateware and different needs according to the items being served. There are also themed options for themed parties that you may want to consider. All plate options can be glass, paper, Styrofoam or plastic; Glass plates can be rented, purchased or borrowed.
Universal Plates – Most kid party hosts only purchase one large plate for all of the food, that usually works out great and is also most economical being able to buy in bulk.
Cocktail and Appetizer Plates – Great plates for the snacks before the main food. Some really cool plates have a cup holder built in making it easier to walk around and mingle with other guest.
Salad Plates – A little smaller than the dinner plate however larger than a cocktail plate
Dinner Plates – Your largest plate, Glass or Plastic are best if you have wet food items or foods that need to be cut with a knife.
Dessert/Cake Plates – A smaller plate is normally used for dessert
Bowls – If you are serving soup, ice cream or other liquid items you will need some bowls.
Cake Platter – Presentation is everything especially when it comes to the cake, a beautiful platter can make a good looking cake even more appetizing.
Punch Bowl – Maybe two if you plan on having separate child and adult punch.
Flatware Check List
When it comes to flatware you have to think a lot about the kind of food you will be serving and how casual or upscale you want your birthday party to be. Options for all the below come in plastic, fancy plastic and different grades of medal that can be rented from party companies.
Forks
Spoons
Knives
Silverware Holder
Serving Utensils

Large Spoons – for food with sauces
Big Forks – Use for meats and/or cake
Sizable Knives – To serve meat and/or cake
Spatula – Many uses
Tongs – for salad or hot food
Ladles – When serving soups and/or punch
Ice Cream Scooper
Ice Scooper – To scoop ice into drinking cups

Napkins – Paper or cloth options can be purchased or rented.  This is another good opportunity to add a theme item.

Cocktail Napkins
Dinner Napkins
Dessert Napkins
Beverage – To wrap around or place under beverages

Candles – Set the mood with candles.  We recommend battery operated candles for safety at kid events, however if you decide to use real candles don't forget a lighter or matches and to be safe.
Beer Bottle Opener – A must if you are serving beer without a twist top
Wine Bottle Opener – A must if you are serving corked wine
Coasters – Protect your furniture and add a special touch when serving drinks
Toothpicks – Not something thought of until needed but well appreciated when available
Drinking Straws – Majority of people prefer to drink from a straw.  Environmentally friendly options available.
Cocktail Straws – Also used as a steering device
Cleaning Supply Check List
Buying cleaning items might not be the most fun task to complete however cleaning items are often forgotten and it is hard to have a successful party without them. Ever since covid-19 has swept it's way across the USA we have added additional must have cleaning items needed for any event.
Garbage Cans – Enough so they will not get over filled and people always have one close by.
Garbage Bags – Buy more than you need so you don't run out, good news is you can always use leftovers at home later.
Paper Towels – Another item we suggest you over buy, better to have more than you need then not enough, they will not go to waste.
Cleaning Spray For Hard Services
Dish Soap and Scrubber – To wash dishes, cups, platters, or anything else for serving food.
Hand Washing Soap – Antibacterial is important since Covid-19
Hand Sanitizer – Super important since Covid-19
Sanitizer Wipes – Super important since Covid-19
Disinfectant Cleaner – Super important since Covid-19
General Party Supplies Check List
As a party planner there is nothing more important than being prepared. The day of the big event is going to be hectic. Most wish they had more than two hands at one point or another. Having your hands full is normal however not having everything you need does not have to be. Use the list of general party supply essentials as a checklist to make sure your event isn't missing anything.
Camera – Most people use their cell phone camera these days however if you have a better camera you would like to use be sure the memory card has room and the battery is charged.
Video Camera – Be sure to read camera information above.
Signage – It is a good idea to put out signs at the end of your road and in the front lawn to make finding your party easy for your guest.
First Aid kit – Hopefully, everyone is safe however it is always best to be prepared, kids are walking accidents.
Batteries – When kids open gifts, they are excited and normally do not want to wait to play with them.  Have batteries on hand so you can get those toys working to keep the birthday boy or girl happy.
Table Place Cards – To help with assigned seats.
Name tags – Help everyone get to know each other.
Generator – Need extra power? Most party and equipment rental companies will have generators for rent.
Stamps – To mail thank you cards.
Thank You Cards – See below more info.
A Week Before Party Time
Follow Up With Guest To Confirm RSVPs – This is a good time to tighten up your guest list. Try to get ahold and receive confirmation from your maybes and anyone you have not heard from.
Confirm Vendors – Call all your vendors to be sure your inflatable, table, chairs and anything else you rented will arrive the day of your event.
Confirm Food and Cake – Call to confirm your food order will be ready for your event.
Make Party Favor Bags
Confirm With Friends and Family Helping That The Tasks Will Be Complete Before Event or They Will Be Ready To Help The Day Of Party.
Start Decorating In Advance – Any decorating you can get done early will be a plus.
Buy Nonperishable Items In Advance – Get some food shopping out the way, purchase any food items that are nonperishable.
Treat Ant Piles In Year – For your family and guest safety be sure ant piles are treated.
Food Check List
When it comes to food your first step is to decide, what kind of food you will be serving if any at all. Will there not be any food, only snacks, some finger foods or a full meal. Once you pick the kind of food you will be offering, you can start making a list of everything needed. Some people may have different dietary needs, so you may want to ask ahead of time if you need to supply or ask guests to bring their own gluten free, peanut free or any other type of non-non-allergenic foods.
When it comes to food choices the sky is the limit, any type of food can be served at a birthday party, so we are only going to touch on the most popular party foods. Be sure to order food and cake with plenty of time before your birthday party to be sure your order will be ready on time. You can purchase any nonperishable now and then save any perishable items for the day before. Use the check list below to insure you have their party food essentials.
Easy Items
Pizza – With one phone call you can feed everyone.
Hot Dogs – Very affordable and easy to cook.
Bbq / Smoking Items – Show off your grill master skills
Chicken
Ribs
Burgers
Burger Buns
Hot Dogs
Hot Dog Buns
Steak
Sides
Chips
Bake Beans
French Fries
Potato Salad
Pasta Salad
Veggie Plate with Dip
Cheese and Crackers
Fruit Plate
Deserts
BIRTHDAY CAKE
Cupcakes – Many families are using cupcakes now since Covid-19 because they are individual
Ice Cream – Vanilla is most popular and it goes well with almost any cake
Snacks 
Appetizers
Chips and dips
Tortilla Chips and Salsa
Finger Cut Sandwiches 
Deviled Eggs
Potluck – Always an option and popular for birthday parties with mostly family and very close friends.
As stated above options are endless however this list will give you a good start on the most popular party food purchased
Beverages Check List
When putting together your beverage check list consider if you would like to include adult beverages. Majority for kid's parties do not include beverages with alcohol for the adults, however many do. When done in moderation having special beverages for adults can help parents and family relax and have a good time.
Ice – Very important, no one likes a warm beverage.
Water Bottles – Keep the kids hydrated, may need extra for outdoor events.
Punch – Store bought bottles or homemade (can also do an adult and kid punch)
Soft drinks – Cans or bottles 
Juice – Cans, pouches, or bottles 
Adults Options

Beer – canned, bottled or keg (tap will be needed with keg)
Wine – Bottled or boxed
Cocktails – All the basics so people can make the cocktail of their choosing or pick a specialty drink that is themed to your event.
Cocktail Mixers
Liquor
Cocktail garnishes – another great opportunity to add to your theme.
It Is The Day Before The Birthday Party
Remind Friends and Family That Agreed To Help That You Are Counting On Them
Make room in the fridge – Lots of food coming that you will need to store overnight
Buy perishable items – Time to buy all those perishable food items.
Prepare Food That Will Stay Fresh Overnight
Mow The Lawn
Scoop Up Any Dog Droppings in your yard
Check That Ants Are Not Present In Your Yard – Reapply ant treatment if needed
Clean The House
The Dogs – If you have dogs consider anything they will need during the event. Do they get anxiety? Maybe ask vet for something to help them relax. Do they Need to be locked up? Maybe get them a new toy or treat that will last for the event.
Make A Party Itinerary (timeline) – Now that you know all the activities that you want to take place at your sons or daughters birthday party make an itinerary to help keep the party moving.
Finish Decorating and Setup Games
Help Your Son or Daughter Get Ready For The Next Day – Kids get super excited the day before their birthday. Help them pick out their coolest outfit or maybe surprise them with a new outfit. Let them know what to expect, who is coming and how the itinerary will go.
Check the weather – Be prepared if weather calls for possible rain.
The Big Day Is Here!
Finish Up Prep Work On Food and Beverages
Buy Ice For Drinking and To Keep Food and Drinks Cold – This is a good task for a helper so you do not need to leave the house or party location during setup.
Meet With All Vendors – By sure to have cash on hand for tips
Walk Through before event – Go back through this checklist to make sure everything is just as you planned
Enjoy the day with your kid(s), family and friends!
The Day After The Big Day!
Write reviews for vendors – The best thank you a vendor can receive is a positive review for a job well done.
Send Thank You Cards To Your Guests
Thank You Cards
When the event is all over do not forget to send thank you notes. Some parents are even organized enough to write down every gift their child receives and the person it came from to customize the thank you cards. Another great idea is to include a photo from the party.